As a designer, I love it when I am able to be self-expressed with my creations. This dress was created exclusively for the finale of "LEGACY – Celebrating the Fabric of Our Culture" in Philadelphia, PA.   For all you jazz enthusiasts… this one's for you!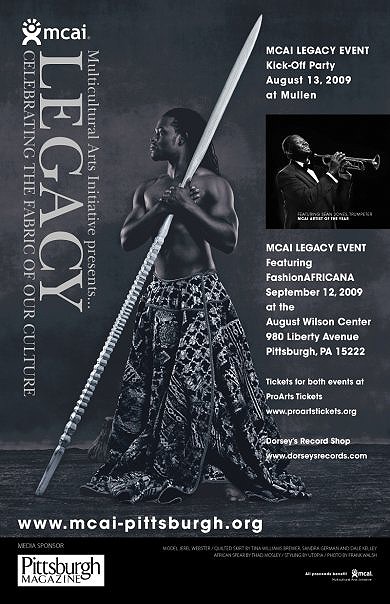 August Wilson Center for African American Culture hosted the Multicultural Arts Initiative's third annual celebration of diversity in the arts with "Legacy: Celebrating the Fabric of Our Culture," a program celebrating diversity and richness of the arts and fashion.
The evening culminated in a fashion show with the models of the Utopia Modeling Agency in a program titled, "FashionAfricana." But this wasn't your typical fashion show with models strutting fancy duds on a runway. The fun and creative styles were showcased as part of a skit, produced by Mark Southers of Pittsburgh Playrights Theatre Company, set in a 1940's night club. The models of the Utopia Modeling agency acted as patrons to the club as the skit unfolded to the music of the PJO.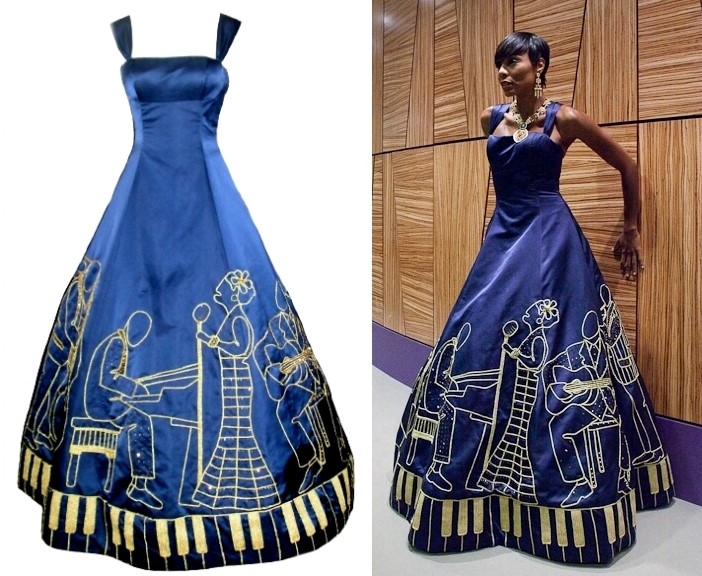 THE DESIGN PROCESS:
| | |
| --- | --- |
| SKETCHING – I sketched all the Jazz band musicians. Including singer, trumpet, saxophone, trombone, bass, piano, drums, and guitar. | LAYOUT & TRACING: I placed the sketches along the bottom of the dress and then traced the images on the fabric to create the lines for stitching. |

| | |
| --- | --- |
| MATERIALS: I used double silk satin fabric and 1/8″ metallic gold cording. Also included hand-sewn beads. | SEWING: I machine stitched the 1/8″ trim (inch-by-inch) along the chalk lines and hand hand-sewn the beaded trims to create the artwork on the dress. |

| | |
| --- | --- |
| FINISHING TOUCHES: I hand-sewed bugle beads and small round gold beads to create a design and texture on their clothing. | ABOUT THE DETAILS: A piano key pattern was created along the hemline with the 1/8″ gold cord. |